Top Stunning Bridal Dress Ideas For Indian Muslim Brides
Well every bride dreams of wearing the perfect wedding dress, on one of her most important days of her life, and while there are so many wedding gowns and lehenga designs available for multicultural weddings, not a many catalogues are available for the muslim bride.
Well every bride dreams of wearing the perfect wedding dress, on one of her most important days of her life, and while there are so many wedding gowns and lehenga designs available for multicultural weddings, not a many catalogues are available for the muslim bride. But we hear you ladies, And so we have come up with an extensively well crafted catalogue of muslim bride dresses that you will absolutely love. No matter what your requirements are we have all the perfect muslim wedding dress ideas you will need under one roof.
So without further ado, here are some of your favorite picks of the absolutely stunning bridal dress ideas for muslim brides in 2018.
Top Muslim Wedding Dress ideas
1. An embellished Gharara with sheer dupatta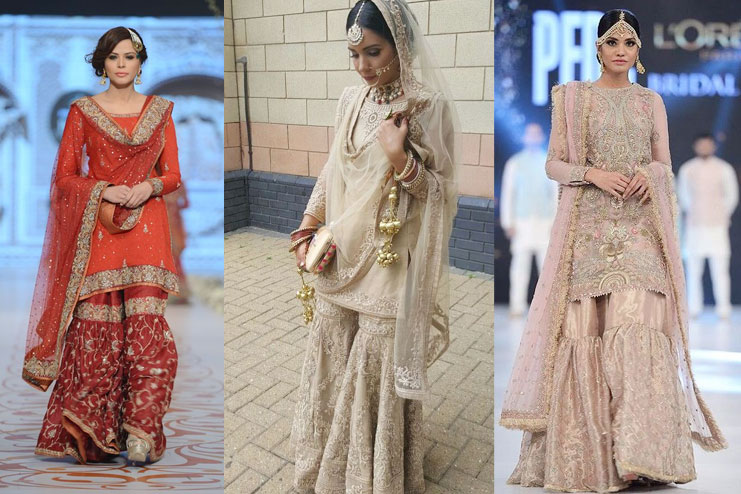 There cannot be many Muslim Wedding Dress Ideas as classic and trendy as the Gharara. For years now muslim brides have worn intricately crafted ghararas  that were designed and made by traditional artisans families. The gharara stays one of the Top Muslim Wedding Dress ideas and we are honestly not surprised. It is one ethereal piece of clothing whose beauty will make you want to get married every day.
2. A dreamy white wedding Gown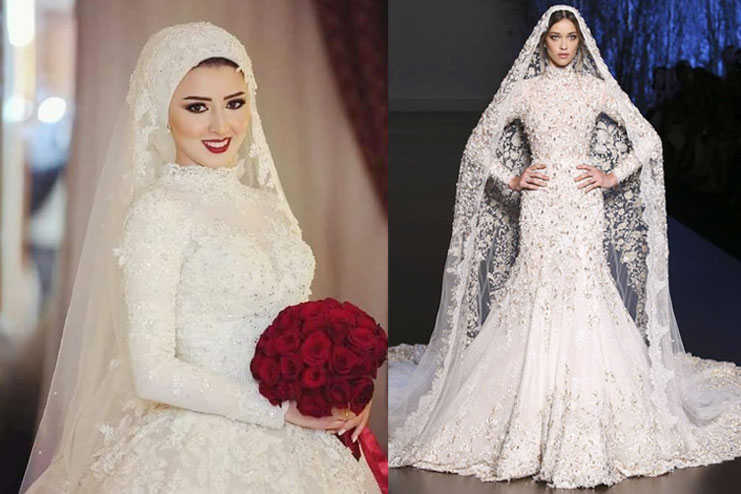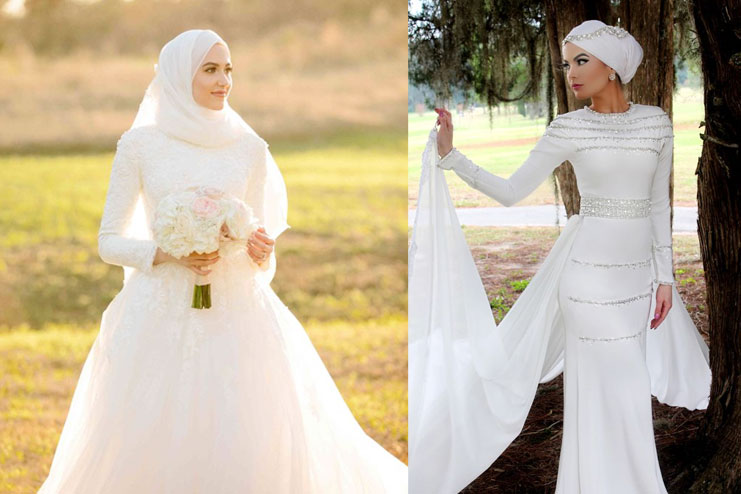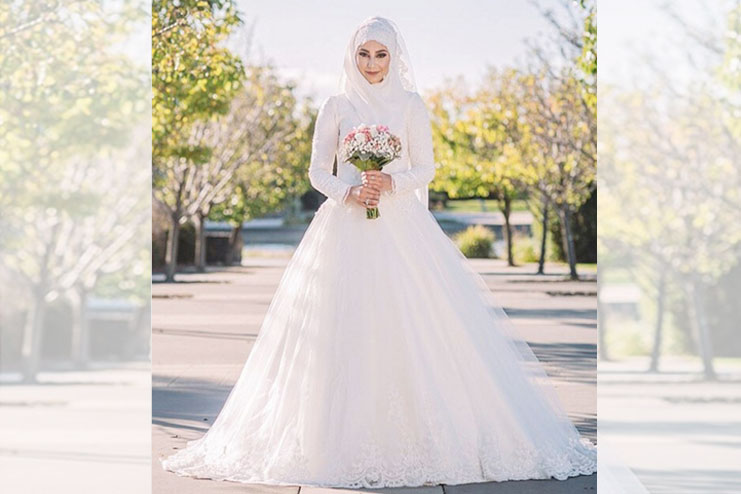 If you are one of those girls who grew up watching movies with traditional white gowns, you definitely wanted to wear one at your wedding. A perfect Muslim Wedding Gown would be something that would have the intricate details like embroidery crafted perfectly on some nice long sleeves and a pretty stunning veil. If you wish to wear a hijab over it, it is just going to add a traditional twist to it. A white gown is a perfect modern muslim wedding dresses that a new age woman would love to wear. Choose one of these Muslim Bride Dresses and look like you're a princess right out of a fairy tale.
3. A subtle bridal salwar kameez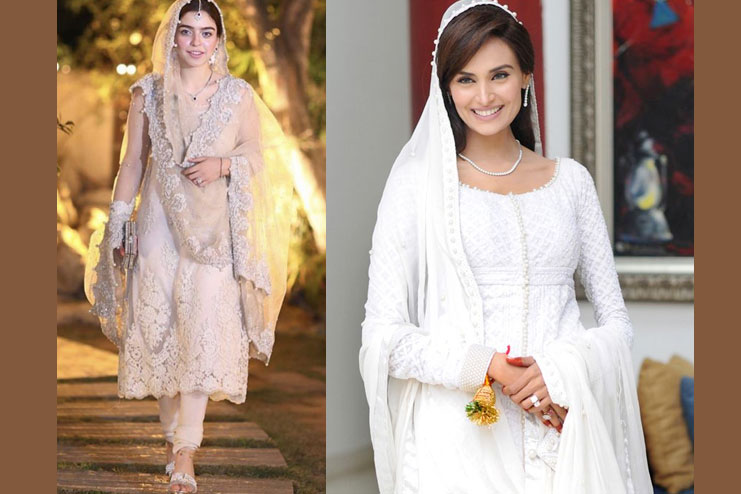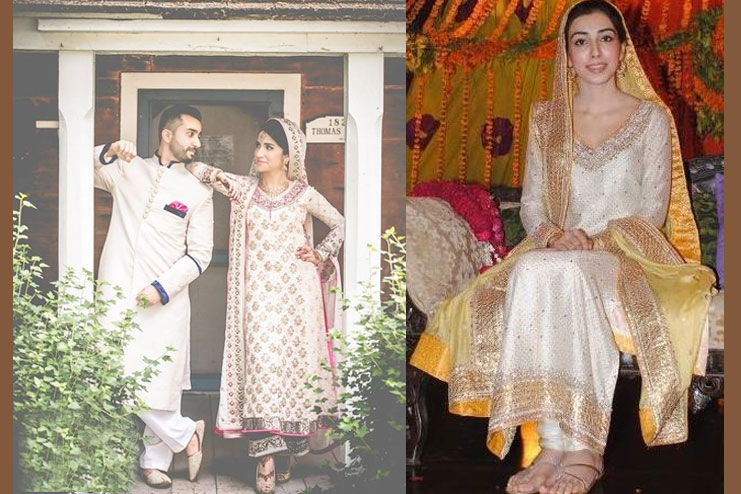 If you an idea of being the bride I've always been minimalistic chic,  this  option is perfect for you. Not a lot of muslim brides dresses  options include something as simple as a salwar kameez,  but believe us salwar kameez makes the perfect style statement for a classy bride.
These can be great Muslim Wedding Dresses for Girls who love to experiment yet stay simple.
4. Heavy Bridal Sharara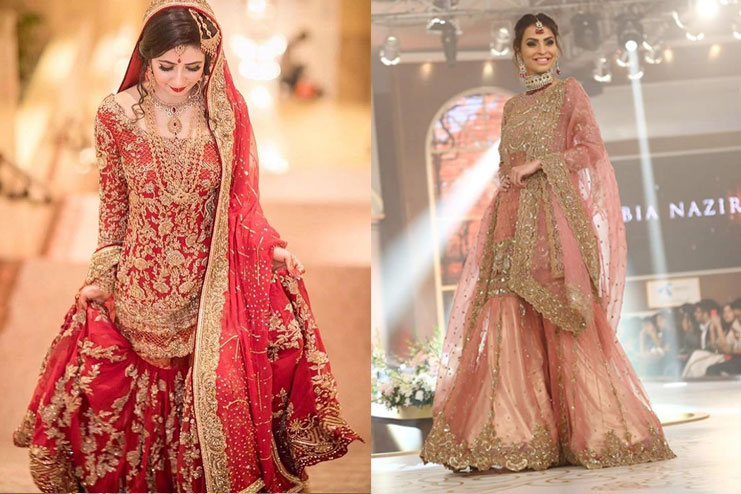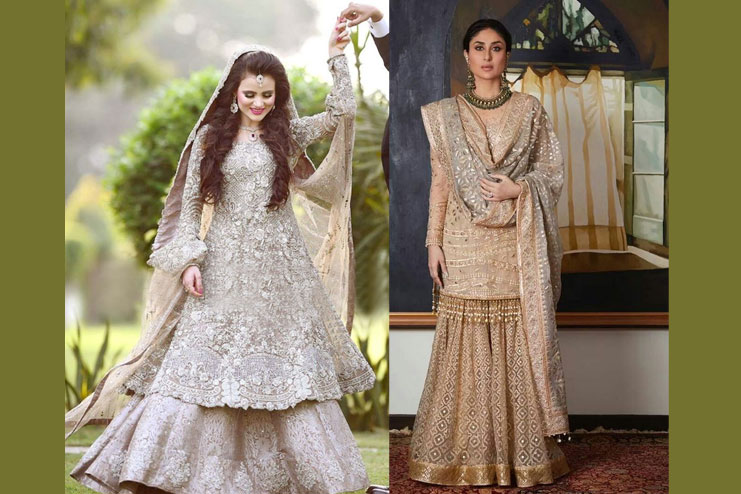 A heavy bridal sharara is one of the most worn Muslim bride dresses ever. It is the Wedding Dress that probably even our mothers have worn. No wonder this is the top muslim wedding dress ideas for muslim ladies. Wear these gorgeous Muslim Bride Dresses in any colour, be it the bridal red or the royal gold. We are sure this will make your grooms jaw drop the moment he lays his eyes on you.
5. The evergreen Lehenga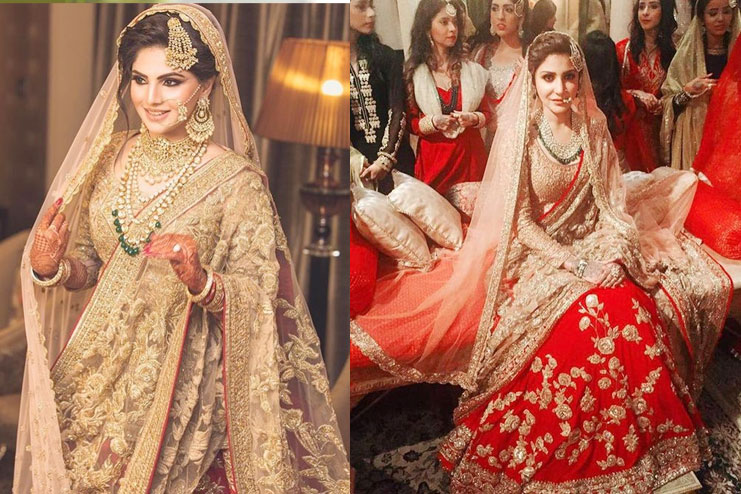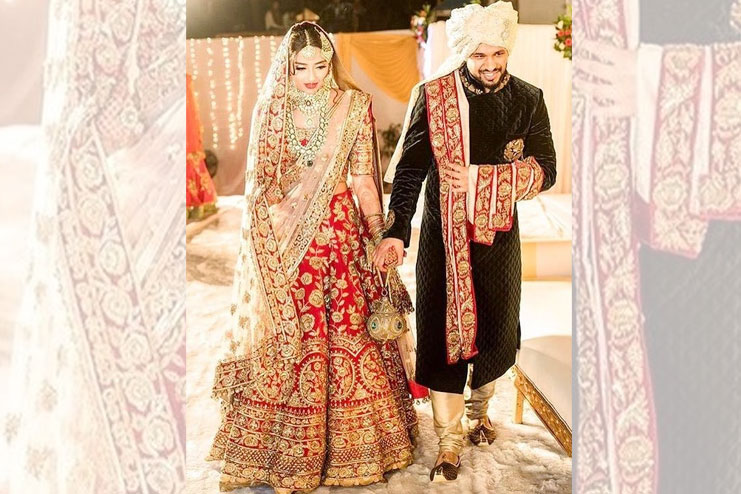 While wedding dresses for muslim brides mostly mean shararas or anarkalis we think that the evergreen lehenga never goes out of style and you can choose the type, the flare and custom ise every bit of the dress, one reason why we feel this can be one of the best Islamic Wedding dresses. Muslim Bride Dresses comprise of those pretty embellished dupattas and those sleek long sleeves with the prettiest work. Choose  bridal lehenga for your muslim wedding if you love a grand outfit.
6. The Mughal Lehenga and Kurti Dress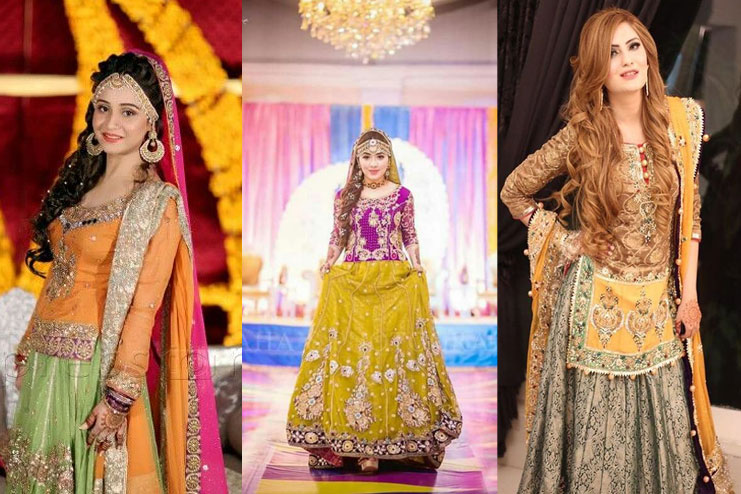 A mughal era inspired lehenga skirt and long kurti style choli is the definition of perfect Muslim Wedding Dresses for Girls of all age. This outfit has the skirt for the drama and the top for the subtle charm. Top it up with  perfect sheer dupatta and you will make the absolutely stunning bride. Make sure you choose bright colours if you want a kitschy bridal wear that stands out.
7. Anarkali with Embroidered grace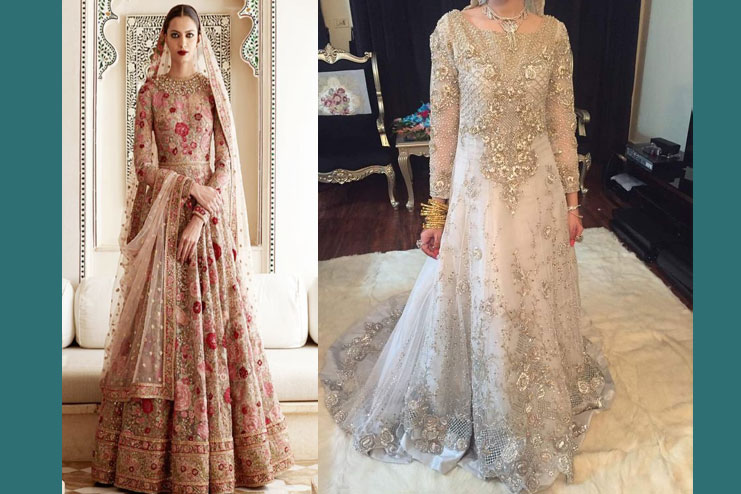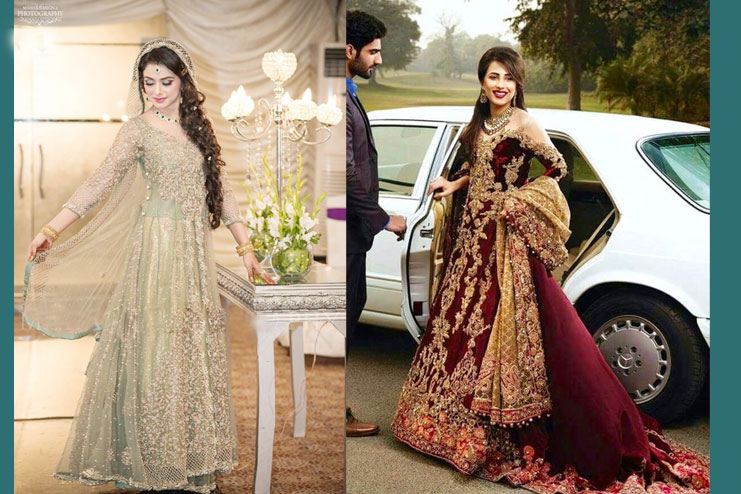 A list of best Muslim Brides Dresses will be incomplete if we do not mention this particular muslim brides dress. A perfect anarkali can be an answer to all your bridal dress confusions. It can be great muslim wedding dresses for girls who want to have a gown like feel but still wish to stick to the traditional charm of an anarkali. Choose a floor length anarkali in deeper hues or in fabrics like velvet for a rich royal princess look.
8. A pastel Bridal Wonder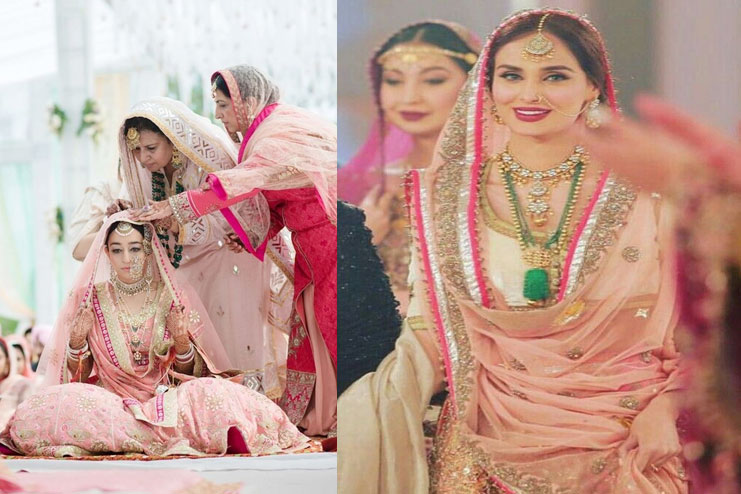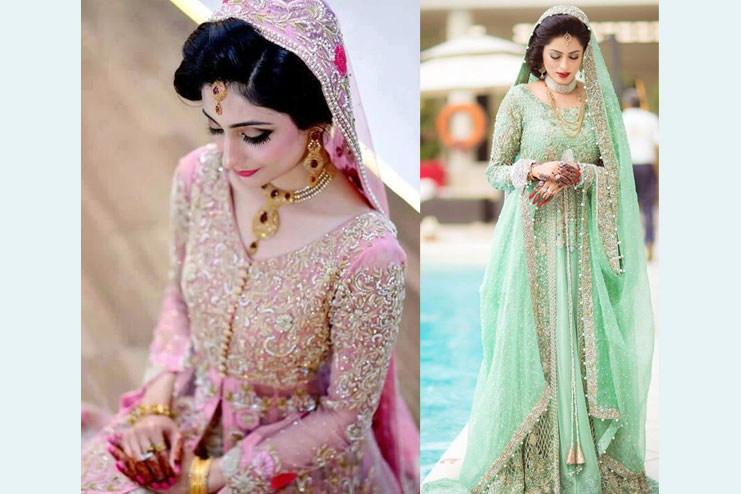 Choose these pretty Wedding dresses for muslim brides who want to look like a dream on their wedding day. Pastel Islamic Wedding dresses can look absolutely stunning on any blushing bride. Pastels colours add a sense of sophistication to any outfit. Especially if you are on the fairer skin tone, make sure you definitely give this a try.
9. Coloured bridal Gowns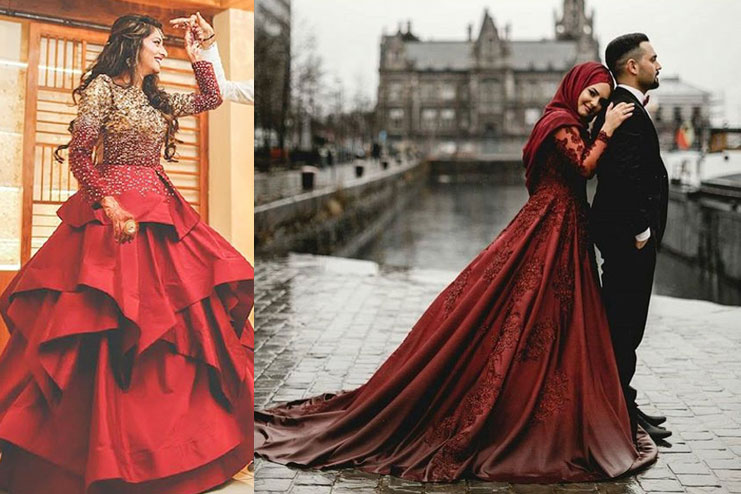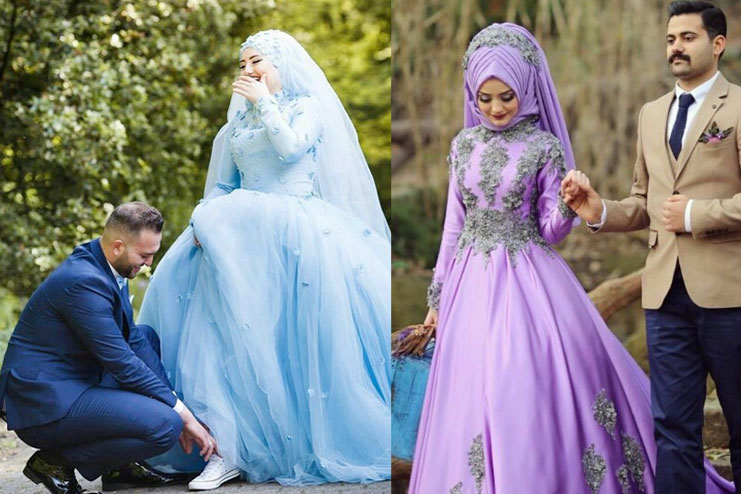 Muslim Wedding Gowns with hijabs make for a picture perfect wedding dress for all those women you love wearing those slim or princessy silhouettes. And if the gowns are in colour there can be no better way to celebrate. These gowns are great for Modern muslim Wedding Dresses for the woman of today. One of our absolute favorite Muslim Bride Dresses.
10. A Jacket Sharara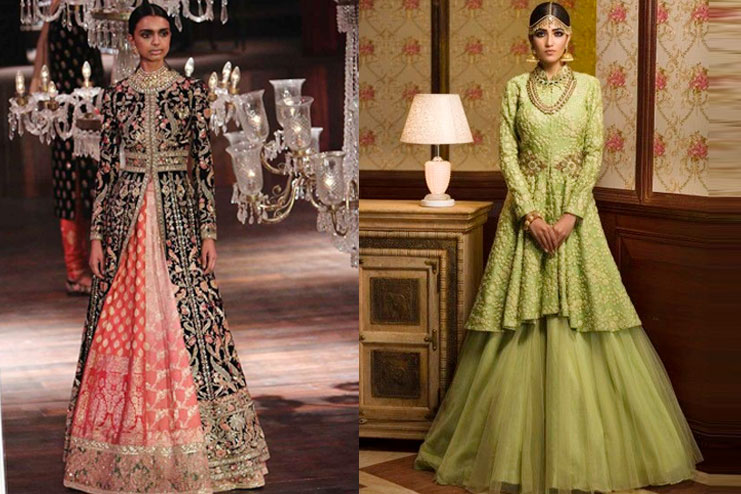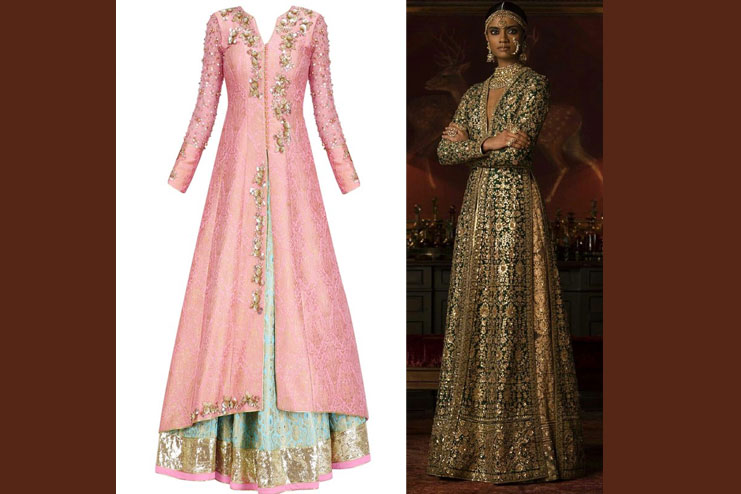 If you are looking for a Muslim Wedding Dress that has a lot of royal feel and yet somehow want to stick to the traditional shararas, this can be the best bet for such ladies. A Muslim Wedding Dress for bride who wants to see herself as a royal princess. Choose deeper colours like maroon or gold and we assure you you will absolutely love it.
11. A Pretty Bridal saree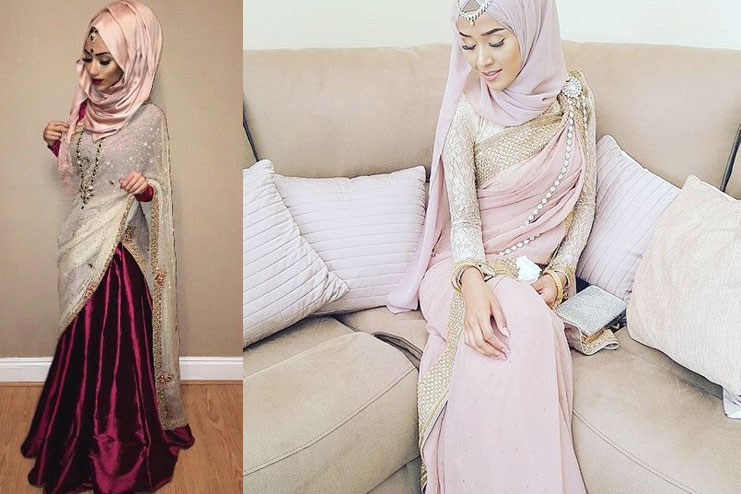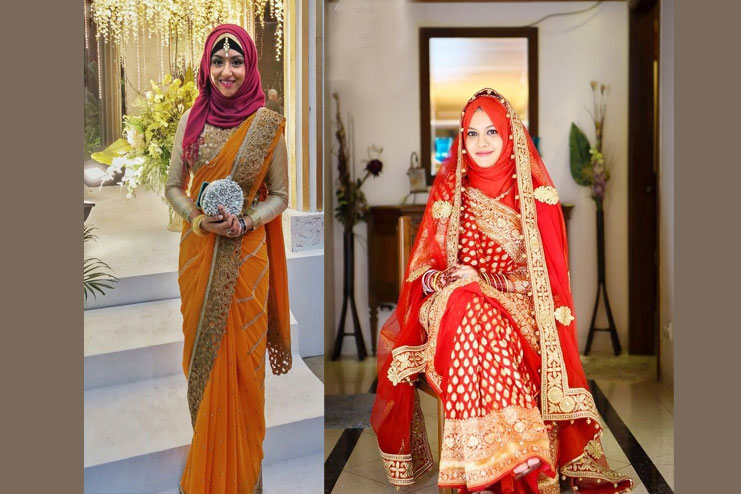 Well, we are all for simplicity, and what better a simple wedding dress than a saree. A lot of bride choose this as their Muslim Wedding Dress along with a matching veil or hijab to complement the entire look. It serves as a Muslim Wedding Dress for brides who want to keep subtle charm in the wedding dress along with simplicity and grace.
These were some of our favorites in the list for muslim wedding dress idea that are trending this year. We hope you found our collection useful. May you look just the perfect bride that you dream of. And if you think we were of help let us know, we will be thrilled to hear back.